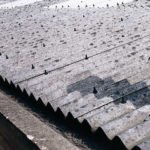 Asbestos garage removal in Runcorn should only be undertaken by professionally trained, certified and hazardous waste disposal certified companies. If your garage was built between 1950 and 1980, it's likely asbestos is present in the roof, the concrete floor, any insulation and possibly the cladding or the exterior siding materials. The asbestos cannot be removed; the whole garage has to be dismantled and removed. Nothing else can be safely built on that location until testing confirms it is free of asbestos contamination. You can't just go in and bulldoze the structure, load the debris in a skip and send it to the landfill. That would not only be grossly unethical and irresponsible but criminal. You would be endangering your own health and that of everyone who comes in contact with the demolition site and the disposal site.
There is a legal process to be followed for asbestos management and removal dictated by government and environmental entities. You may wonder how, in Runcorn, asbestos garage removal is even possible to carry out safely. We have highly trained technicians with the proper safety equipment to demolish and remove the garage according to British standards. We start with a survey to detect the presence of asbestos. We recommend a survey even if your garage was built later than 1980. If your garage was built with asbestos-containing building materials, we have to carefully dismantle it in as few pieces as possible to keep asbestos fibres from flying free. The building materials are safely contained and our technicians are equipped with safety gear.
Asbestos garage removal in Runcorn is one of many environmental services we're equipped to handle. After the task is complete, we'll do an aircheck of the area to assure there are no high levels of dangerous asbestos fibres. Contact Asbestos Associated if you have an old garage to be removed so you can build a new one or use the land for another purpose. We will come out and do a demo survey, which is invasive so we can determine the level of asbestos that is present. We'll manage the complete removal safely and according to standards. Asbestos is a deadly, nearly invisible, fibre. Once breathed in, it can become embedded in the lungs where it sets about altering cell formations. The end result is death as there is no cure. Don't take chances.