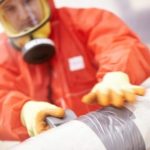 A company that prioritises safe asbestos removal in Manchester is Asbestos Associated. Asbestos is a hazardous substance that has caused the loss of life for many. It was once used as an additive to building materials, and as such, it is found in most buildings erected prior to 2000. If you suspect there are asbestos-containing materials in your building, it is best to consult with a professional company to ensure the best way forward. We offer a range of services relating to asbestos. This includes surveys, asbestos testing and asbestos removal and disposal.
We offer a value for money that is safe, professional and efficient. In Manchester, asbestos removal may be required if there are asbestos-containing materials in your building. If these are found to be damaged, or are likely to be damaged or disturbed in the near future, it may be advisable for their removal. We can assist. Our team of experts will provide a complete HSE licensed asbestos removal service. Each member of our team is completely dedicated to his own safety as well as to the safety of his colleagues and the public. When you use our services for asbestos removal from your building, you can rest assured that it is professionally, safely and effectively completed. As leading specialists in asbestos removal, we will ensure that the removal of asbestos from your building is carefully completed, and within strict guidelines. We will also make certain that there is minimal disruption to your workday.
Asbestos removal in Manchester should only be entrusted to an experienced and knowledgeable team. Asbestos can be found in a large variety of building components. As it was extensively used with building materials, it can be found in ceilings, insulation, cisterns, flooring and more. While asbestos itself is not harmful, when it is disturbed or damaged, it is. Inhaled asbestos fibres can embed in a person's lungs, causing cancer and other incurable diseases. Only an experienced team with knowledge of the correct and safe removal procedures should be used for asbestos removal. For more details on how we can assist you, contact Asbestos Associated. Let us help you ensure that your building is safe for occupancy.