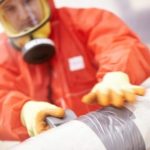 Protect people and avoid legal complications with our expert asbestos removal in Stockton Heath. We specialise in the removal, demolition, site clearance and safe disposal of this hazardous material. Our staff has a high level of expertise, experience and training in this sector. We ensure that every one of our projects is completed with due care and attention to detail. We take care of all aspects of a project, starting from initial particle testing, right down to removal and disposal. Whether it is asbestos or asbestos-containing materials, they are located, identified and safely removed.
For clients in Northwich, asbestos removal must be done only by duly licensed companies. But, based on the extent of risk posed by this dangerous material, there are different categories of removal. In some situations, non-licensed companies can also undertake this work. Non-licensed removal can be done if the risk is very low. The amount of asbestos in the air measured should not exceed the 0.6f/cm3 measured over 10 minutes. Another category of work is notifiable non-licensed removal. This is done if large quantities of asbestos or asbestos-containing materials have to be removed, provided all precautions are taken. The local council authorities must be kept informed. Licensable asbestos removal is done where there is significant risk to life or there is a public hazard. Such work can be done only by licensed companies.
It is important that you select a company for asbestos removal in Northwich only after you clearly understand the nature of risk involved. We can conduct a thorough initial assessment to evaluate the category of work to be done. As such, we have the necessary training, experience and equipment to ensure that all the prescribed safety precautions are in place. Contact us today for more details about how we can assist with asbestos removal. The area has to be cleared and a containment area is built within the space. Our personnel wear secure protective gear and make sure that the guidelines laid down by HSE are in place. We also ensure that you face minimal disruption in your regular routine while the project is on.