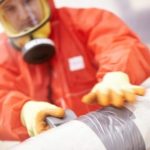 Asbestos removal in Delamere will be necessary if a survey has found friable asbestos-containing materials. Many old buildings still contain asbestos today – despite the ban on its use in construction. This is because it was widely used in the past. In fact, many parts of a building still contain asbestos. This can be found in the insulation, the guttering, roofing, flooring and more. The danger the asbestos poses is when it is likely to be disturbed. The disturbance causes it to release its very small particles into the air. These can be inhaled by people working in the vicinity. Unfortunately, the consequences of inhaling these fibres are serious. Symptoms may only manifest years after the exposure. Hence, it is best to avoid such situations altogether.
We are an asbestos company. As such, in Delamere, asbestos removal is one of our expert services. If your building has asbestos-containing materials that need removal, we are the company you can rely on. Asbestos needs to be removed by a professional, experienced and trained team. It is not a task you could perform yourself. Thus, each member of our team has the necessary credentials to ensure the safe removal of asbestos from your property. If you need assistance or advice, please give us a ring. We're happy to assist you with any asbestos-related queries. We can also assist with asbestos surveys, asbestos testing and removal. Our many years of experience ensure that all our work complies with the required legislation.
Asbestos removal in Delamere is a professional task. For more details on how our team can assist you with asbestos removal, contact Asbestos Associated today. We'll decide on a time that best suits you and inspect your site for the best way forward. Safety is one of our top priorities – for our clients, our team and our environment. Using the correct protective wear and the right equipment, our expert team can ensure the safe removal of any asbestos-containing materials from your building. Furthermore, as this can be potentially dangerous for bystanders, the building must be vacated prior to beginning the removal process. Let our team assist in keeping your building safe.