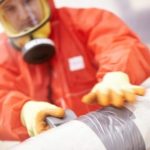 When you need top-quality services for asbestos removal in Lancaster, call in the experts. At Asbestos Associated, we have been in this business for many years and have wide-ranging experience in all sectors of asbestos. Our services include asbestos surveys, testing, removal and disposal. We are based in Cheshire and our client base extends throughout the Liverpool, Wirral, Runcorn, Manchester, Burnley, Crewe, Southport, Preston, Leeds, the surrounding areas and beyond. Most of our business comes to us via recommendations from clients who have been 100% satisfied with our services. Being a local business, we maintain strong ties in the communities. At the same time, we provide our customers with the latest information, technologies and services available from across global markets.
What sets us apart from our competitors is our commitment to quality, our ethical practices, concern for the environment, compliance with regulations, cost-effective solutions and our customer-focused approach. In Lancaster, asbestos removal should only be undertaken by licensed, experienced professionals.  It's hard to imagine that half a century ago, asbestos was hailed as the "miracle mineral." It was valued for its sturdiness, flexibility and ease of use, heat resistance, non-conduction of electricity and insulating properties. However, towards the 1970s the health and environmental risks began to be known. When left undisturbed and undamaged, asbestos doesn't pose health risks. However, with aging, wear and tear and natural deterioration, the fibres work loose and enter the atmosphere. These fibres then enter our respiratory systems and cause a range of illnesses, from allergic reactions to serious cancers and life-threatening problems. Unfortunately, the effects of asbestos become known much after the actual exposure. Keeping these factors in mind, all those who live in older buildings have to ensure that the asbestos or asbestos-containing materials on their property are identified, surveyed, assessed and regularly monitored.
Our asbestos removal in Lancaster is carried out by our expert team. We ensure that the process is safe, smooth and efficient, with no risks to the building's occupants, neighbours or the technicians themselves. For more information about our asbestos removal services, contact Asbestos Associated. Our services are in compliance with the regulations prescribed by the Health and Safety Commission.