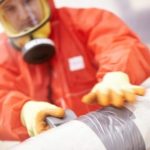 Our professional asbestos disposal in Northwich must be done by experts in the field. There are strict regulations on the handling and disposal of asbestos as it can be an extremely hazardous material.  It needs to be removed from a building without creating dust which can travel a fair distance. The workers who remove it have to have special clothing and respiratory equipment to safeguard them from contamination. Once the material has been removed it has to be packaged inside a number of sealed bags to stop any fibres escaping during transport to the disposal yard. If the asbestos is in a very fragile state it is sometimes necessary to encapsulate it before removing it. Our team is highly professional and extremely careful when handling asbestos.
Many older homes have asbestos-containing materials in them. In Northwich, asbestos disposal is a specialist task.  In some cases the asbestos has become dangerously worn and starts to allow fibres to escape into the air. This can cause dangerous health problems and needs to be dealt with immediately. Where ever possible we try to minimise any disturbance to the daily running of the business being cleaned. However if there is any danger of your staff inhaling asbestos we may require certain areas to be evacuated while we remove the material. Our team are highly trained and have all the necessary equipment to safely inspect and remove any asbestos that may be damaged and causing problems.
We offer an affordable price for survey and asbestos disposal in Northwich. Contact Asbestos Associated today and find out how affordable our prices are. We make an enormous difference to your workplace and home by making sure that they are healthy and safe to be in. With a number of branches around the North West, we can provide all the necessary services throughout this area as well as the rest of the United Kingdom. We have a number of years of experience in asbestos removal and disposal. Our team makes sure to rigorously obey all health and safety regulations pertaining to asbestos handling for the health of the client as well as the environment.