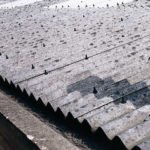 Asbestos garage removal in Crewe should be investigated before you tear down an old outbuilding on your property. Yes, it's your property and your garage but if it contains asbestos it's an environmental hazard and subject to government guidelines. If the building was constructed before the year 2000, there's a good chance it contains asbestos. If built before 1980, we could almost guarantee it contains a lot of asbestos. Asbestos is such a great construction material. It's cheap, lasts forever, adds strength to other building materials and is fire resistant. As we all know now, the microscopic fibres that make up asbestos are a health hazard when inhaled. They become embedded in lungs, heart and abdomen tissue and cause mesothelioma, an often fatal cancer.
So while the garage is standing, it may not present any threat because any asbestos is contained. In Crew, asbestos garage removal must be carried out properly to avoid dispersing the asbestos fibres into the air and even in the ground. Asbestos may be an added component to roof shingles, cladding, any existing insulation, old electrical cords and concrete flooring. Bringing down these buildings safely is one of our specialities. The building must be sectioned, sealed and transported to a designated landfill. The concrete floor removal risks soil contamination. In such cases, the top soil is removed and tested until it's clean.  Asbestos garage removal must be carried out by licensed experienced professionals.
Asbestos garage removal in Crewe begins with a call to us. We will conduct a site survey and testing for the presence of asbestos. If found, we will undertake the safe demolition of the building, disposal of the materials and a complete site clearance and clean up. We do not take risks. Our team is fully equipped with safety gear and equipment to protect our own safety and that of those in nearby surrounding areas. If you have made the decision to rid your property of that old garage, contact Asbestos Associated and schedule a site survey. If testing shows asbestos is present, then you can make the decision to leave it alone or tear it down. We can safely carry out your demolition project from start to finish at competitive prices.