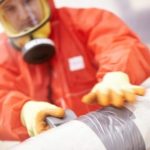 For the most efficient asbestos testing in Chester, come to us. Asbestos is a hazardous material that was widely used for construction in the 1900s. Several buildings that came up in the UK before the year 2,000 have asbestos materials. The material had excellent thermal properties and was ideal for roofing, flooring and insulation. Yet, the UK issued a complete ban on the use of asbestos materials in 1999. This ban was put in effect when asbestos fibres were proven to cause various respiratory illnesses and some forms of cancer. Asbestos contains tiny fibres that reside in your lungs when inhaled. Your body cannot naturally eliminate the asbestos fibres. As such, these fibres contaminate your respiratory system and can cause lasting damage. The asbestos fibres are lightweight and float in the air when agitated. Anyone in the vicinity of the agitated asbestos fibre can unknowingly inhale them.
Following the ban, it was mandatory to remove any asbestos from buildings. In Chester, our asbestos testing has kept many homeowners safe and helped many builders save time and money for construction. Discovering the asbestos particles before demolition begins simplifies the asbestos management process. We can isolate and extract the asbestos materials with minimal disturbance and exposure. In the UK, only certified professionals are approved to handle asbestos materials. It takes special skills and equipment to handle asbestos safely.
The first stage of management is Asbestos testing in Chester. We offer this service to building contractors, demolition teams, DIY renovators and home buyers. Identifying the risks before embarking on a project can save lots of your resources. We also have the safest asbestos removal and disposal practices in the Northwest. We believe in safety, courtesy, professionalism, speed and accuracy. We ensure that we get every job 100% right the first time. If you suspect the presence of asbestos material in your home, call Asbestos Associated today for a test. We can plan our test to suit your schedule. Our team is courteous and limits disruption to your home or workplace. Our prices are very competitive, and our expertise is second to none.