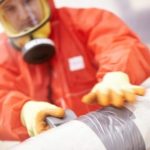 Asbestos testing in Frodsham is a necessary step prior to any renovations or demolition of your building. Many old buildings still have asbestos-containing materials in their structure. This is a result of the wide use of asbestos as an additive to building materials. Extensively used in the building trade, many parts of a building have some form of asbestos.  If your building was constructed prior to 2000, it's likely to contain asbestos. However, asbestos was found to be a lethal substance. It is the cause of many deadly diseases and cancer, including asbestosis and a variety of cancers.
It is your responsibility as a duty holder to ensure that any asbestos in your building is managed. In Frodsham, asbestos testing is one of the steps in asbestos management. Asbestos testing is an excellent step to ensure your building is compliant with legislation. However, the problem lies with the tiny fibres that become airborne when asbestos is damaged or disturbed. These cannot be seen with the naked eye. It is essential to use the services of a professional company for an asbestos survey, testing and removal. We can assist. Our expert team can remove any suspected asbestos-containing materials and have them tested in an UKAS approved laboratory.
The right asbestos testing in Frodsham should be done by professionals. To find out how we can assist you with any asbestos-related concerns, contact Asbestos Associated today. The first step is an asbestos survey. The results of the survey provide information on the location and condition of the asbestos. It'll also determine whether testing is necessary.  Our experts are accredited to provide asbestos testing. If there is asbestos within your building, we can remove samples and have them lab tested. We pride ourselves on creating safe working and living environments for our customers. You can have peace of mind knowing that your building is safe for the occupants when you rely on the expert services of a professional team. Give us a call today.