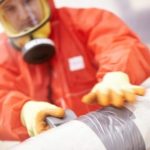 Asbestos removal in Croft is necessary if there is asbestos in your building. An asbestos survey can identify any asbestos-containing materials that should be removed. An asbestos survey is necessary prior to any work scheduled to take place in your building. This includes renovations or regular maintenance. Should asbestos-containing materials be present in your building, a professional team is necessary to ensure its safe removal. Let us assist. Our team has the necessary skill, training and experience to ensure a safe and effective asbestos removal project. You can rely on our high level of expertise and professionalism.
Give us a ring to schedule a consultation. Thus, in Croft, asbestos removal is necessary if the asbestos in the building is damaged, deteriorating or crumbling.  If the asbestos in your building poses a risk to the occupants, it must be removed. Furthermore, we use a number of careful procedures when our expert team remove the asbestos from your building. Our expert team carefully plans the entire process. As such, we follow the correct procedures to ensure safety and compliance.  Moreover, our services are fully HSE certified. And, we are 100% committed to the safety of our staff and clients. Ours is a comprehensive asbestos management service from inspection and testing to removal and disposal. We also offer pre-demolition/ refurbishment surveys and general management advice.
You can rely on our expert team for professional asbestos removal in Croft from your building. In addition, you can have peace of mind that the procedure is safely completed. Our team ensures that the removal process follows the necessary guidelines.  We will ensure the asbestos-containing materials are correctly and safely removed from your building. Thereafter, we will dispose of the asbestos correctly. Contact Asbestos Associated today for more information on how we can assist with professional asbestos removal. As we are experts in all asbestos-related issues, we are the company you can rely on. Trust our team for effective, safe and through asbestos removal from your building.