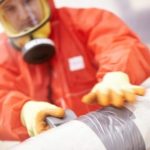 Stay in legal compliance with regular asbestos testing in Delamere. As a well established firm that specialises in asbestos survey, testing, removal and disposal, we can provide the right advice and assistance. Besides the legal requirements, testing helps you to locate, identify, grade and quantify asbestos or asbestos containing materials on your property. You may be a property owner, landlord, building manager or contractor. Exposure to asbestos can be hazardous to the health of all those who work, visit and occupy the building. Particle testing helps to correctly assess the potential hazards. Testing professionals require a high level expertise, experience, training and certification.
Until the 1970s, asbestos was considered to be a miracle material.  In Delamere, asbestos testing by our team helps to accurately pinpoint the areas that contain this material. It is plentifully available, easily accessible, affordable and versatile. It has been  used extensively for centuries in a variety of ways.Being fire-resistant,  weather and heat proof, it has excellent insulation properties. Asbestos is resistant to termites and other insect, fungal or microbial attack. It is easy to clean, though difficult to repair. As a result, it was used in heating and cooling systems, fire-safety structures, false ceilings and partitions, insulation, paints and coatings. Mixed with cement, it was used to make a very strong and durable material for building interiors and construction. Manufactured as corrugated sheets, was also used as a protective roofing.
Asbestos testing in Delamere involves the careful collection of samples from the floor, roof, walls, cisterns, ceilings and more. In some cases, on-site testing of the atmosphere, soil and water may be done. Contact Asbestos Associated for more information. In spite of the advantages, the hazards far outweigh the pros. This material causes enormous, irrevocable damage to health. If left undisturbed, asbestos may not pose any danger. However, with age, wear and tear, it breaks down into microfibers that work loose. These enter our lungs and cause life-threatening conditions such as cancer and mesothelioma, a rare form of lung cancer. As a result, it has been banned in many countries and the use strictly regulated in others.