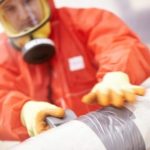 For safe and professional asbestos removal in Winsford, it is best to use an experienced company. Removing asbestos from a building is not a task anyone is qualified to complete. Asbestos-containing materials a dangerous, and exposure can mean cancer and deadly disease. Unfortunately, the symptoms of these only manifest much later in life. Worst of all, there is no cure. As such, it is essential that any asbestos work is left to the professionals. A professional company has a team of experts with the right training and experience to ensure safety for all. If, after a survey, it is necessary to remove any asbestos-containing materials from your building, we are the expert company you can rely on.
We have many years of experience in dealing with asbestos. As such, in Winsford, asbestos removal is one of our services. Our asbestos removal process complies to the HSE Code of Practice. Furthermore, we can assist with both licensable and non-licensable asbestos removal. We will provide a thorough risk assessment to decide on the most appropriate type of asbestos removal for your building. Our team will ensure that special precautions are in place, as well as the use of the necessary equipment. Furthermore, our team is well-versed in the dangers of exposure to asbestos and will wear the necessary protective clothing.
Asbestos removal in Winsford should only be carried out by a professional team. As such, we have the team that can provide a safe, secure, and highly professional asbestos removal service. Furthermore, we will dispose of it in the correct manner too, according to the HSE guidelines. The contaminated materials will be placed  in suitable packaging to prevent the release of any asbestos fibres. In addition, it will be double bagged, or double wrapped and appropriately labelled. For more details on how our expert team can assist with asbestos removal, contact Asbestos Associated today. Furthermore, we provide a high level of staff expertise, attention to detail and level of service. We follow all hazardous waste regulations. Our team of experts will provide a complete HSE licensed asbestos removal service for your peace of mind.