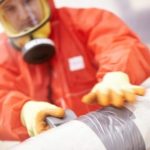 Professional asbestos testing in Knutsford is the only way to detect the presence of asbestos. If your building is older than 50 years, it's possible that it has asbestos or asbestos-containing materials. You may be planning repairs, renovations or other structural alterations. These activities will surely disturb or damage asbestos in the building. As a result, the fine fibres of asbestos escape into the air and enter our respiratory system, causing a variety of health conditions. As a property owner or facilities manager, it's your duty to protect all who work in or visit your premises. Ours is a well-established business, with several decades' experience in this sector. We provide a comprehensive range of asbestos-related services. They include asbestos testing, survey, removal and disposal.
For building owners in Knutsford, asbestos testing provides a wide range of benefits. Work on a building during renovation or repairs could come to a complete halt if asbestos is detected that was not found earlier. It must be removed only by certified and licensed professionals. Under current government regulations, stringent penalties are imposed if these materials are disturbed and removed without permission. As a first step, it's wise to conduct a thorough test before you start any construction or demolition activities. Testing prevents all in the vicinity from being harmed by exposure. Your family members, workers or visitors could develop allergies, respiratory illnesses, lung cancer or mesothelioma due to asbestos inhalation.
Asbestos testing in Knutsford gives you peace of mind. You don't have to worry about your project getting delayed, or people getting harmed. This is a good long-term investment in case you plan to renovate, repair, demolish, sell or rent your home or building in the future. Our team has the necessary skills, training, licenses and qualifications to complete the job perfectly. Our technicians take a sample of the material, and this is sent to a certified UKAS laboratory. The lab will send a detailed result and report. This will tell us whether and what type of asbestos is present or not. Contact Asbestos Associated for more information about our asbestos testing services. We welcome a conversation to understand your unique requirements.