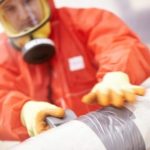 Ensure that your building environment is safe from contaminants with comprehensive asbestos testing in Birchwood.
The testing process involves taking a sample of a suspected material to the lab to determine whether it contains asbestos. Asbestos is extremely dangerous, and exposure to its fibres through inhalation or ingestion can have deadly negative effects on one's health. The only way to identify the presence of asbestos is through testing. Asbestos removal depends on the degree of damage and the danger it poses. Asbestos testing helps make sure that you, your family, your employees, or the occupants of your buildings remain safe from this hazardous material.
A licensed company collects the sample for examination and testing to guarantee complete safety. In Birchwood, our asbestos testing team is highly skilled and trained. We have the expertise and knowledge to take samples from any materials that might potentially contain asbestos. We have the authorisation to conduct asbestos testing. Our skilled team will locate any asbestos-containing components in a structure and collect samples for laboratory analysis. With our high level of staff expertise, attention to detail and quality of service, you can be guaranteed a complete service that takes care of every element of asbestos: from initial particle testing to safe removal and disposal.
Our asbestos testing service in Birchwood is the least disruptive one available. Our asbestos-related services are top-notch, risk-free, and cause as little disruption to your business as possible. We are committed to providing a safe asbestos removal service. We ensure that all work is done professionally and by industry and health and safety standards. To ensure high-quality results, it is best to work with a qualified company. Contact Asbestos Associated today for any asbestos-related concerns. We also provide demolition, site clearance, and waste disposal services. With the help of our knowledgeable team, we will make sure your building complies with safety and legal requirements.